People's Climate Music Releases New Single Featuring Jeremih and Antonique Smith to Move People to Act on Climate, Proceeds to Storm Relief Efforts
Cover of the 1969 Beatles iconic song inspires hope to solve climate change and support communities impacted by hurricanes and environmental disaster
Washington, D.C., September 22, 2017 – Today Hip Hop Caucus, creator of People's Climate Music, debuted "Here Comes the Sun," on iTunes, Apple Music, Spotify, Tidal and Amazon Music, featuring Grammy nominated singers Jeremih and Antonique Smith. The inspirational track is a cover of the song written by George Harrison that was first released on the Beatles' 1969 pivotal album, Abbey Road. All profits from the record are being donated to Hurricanes Harvey and Irma relief efforts in frontline communities. Through People's Climate Music, Hip Hop Caucus organizes diverse and influential artists to create music that inspires action on the climate crisis, with a goal of leading the way to a sustainable, 100% clean energy future for our planet.
Jeremih and Antonique Smith's interpretation of "Here Comes the Sun" is a message about our humanity, as people of all walks of life come together to help each other in disaster and crises.
"We reprised the song in a way that keeps the essence of the original version, and we appropriated it as a message of hope to those today who are working on the right side of history– for justice, equality, and a healthy planet," said Jeremih.
The song is accompanied by a call to action for people to take at www.PeoplesClimateMusic.com/HCTS. A promise to band together for the immediate and long-term recovery work from Hurricanes Harvey and Irma, and to prepare vulnerable communities for climate adaptation and an equitable transition to a clean economy, the project calls on people to use their voices to put pressure on our world leaders to act on climate change now.
"Poor communities and communities of color are impacted first and worst by the climate crisis," said Antonique Smith. "I've traveled across the country meeting with communities on the frontlines of pollution and environmental disasters, and the purpose of our revival of 'Here Comes the Sun' is to bring more attention and support to their work and leadership on the frontlines."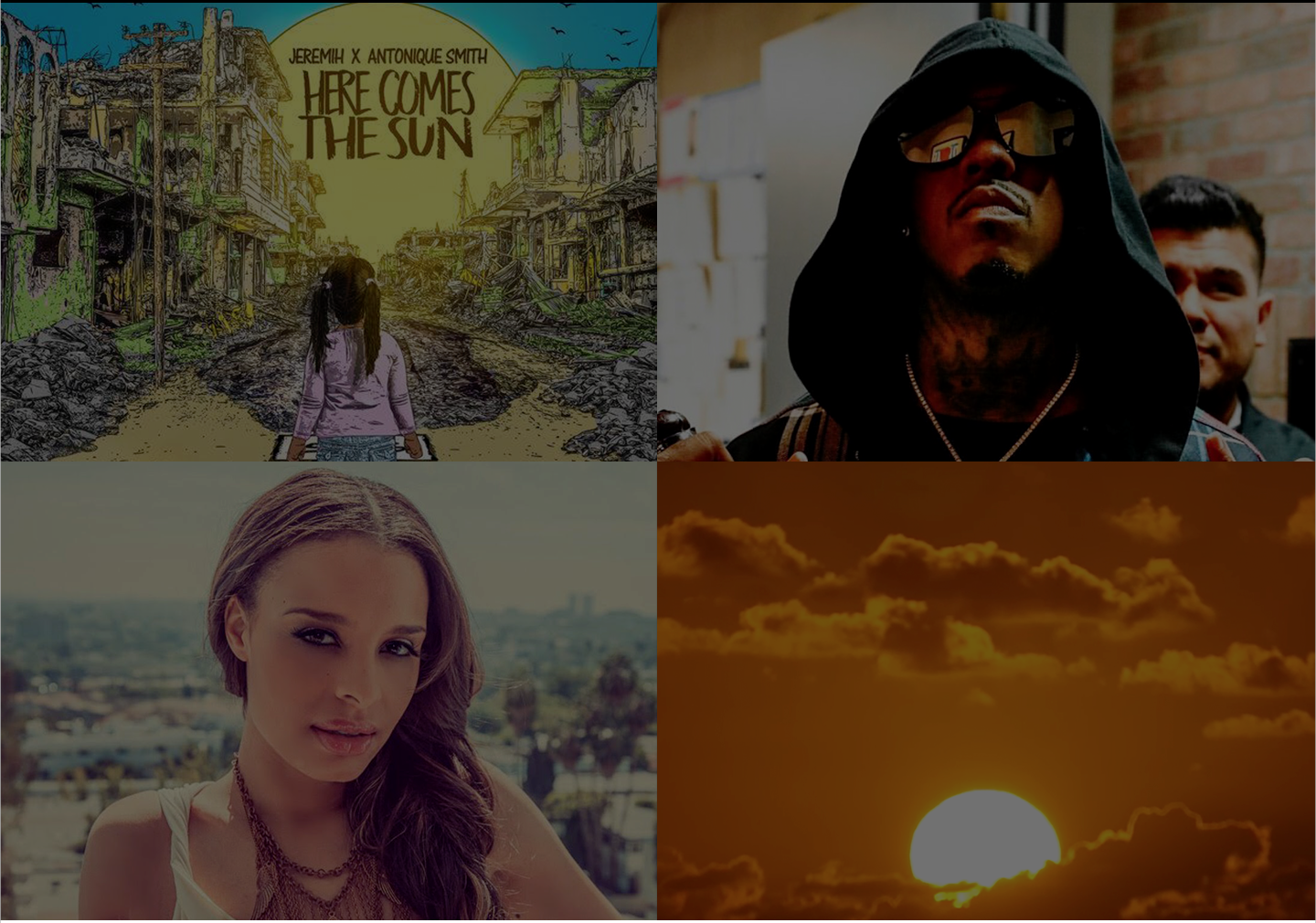 To mark People's Climate Music's third anniversary, a trailer for the "Here Comes the Sun" music video featuring Jeremih and Antonique Smith will premiere during Climate Week NYC 2017 at Hip Hop Caucus' Frontline Communities – The Untold Stories of The Climate Movement event on Sunday, September 24th at The New School.
"With the power of culture and artists who have the ability to reach people everywhere, we are expanding the climate movement," explained Rev. Lennox Yearwood Jr., President and CEO of Hip Hop Caucus. "We must build a movement big enough and powerful enough to drive a transition to 100% clean energy for all. A healthy planet requires justice and equality so that everyone's communities are clean, healthy, and safe places to live."
"Here Comes the Sun" is available on all streaming and online stores including iTunes, Apple Music, Spotify, Tidal and Amazon Music. Find the song at: www.PeoplesClimateMusic.com/HCTS For more information about People's Climate Music visit peoplesclimatemusic.com or to continue the social conversation, visit Facebook.com/hiphopcaucus.
About Hip Hop Caucus (www.w0c.71c.mwp.accessdomain.com) Formed in 2004, the Hip Hop Caucus (HHC) is a non-profit, non-partisan organization that leverages Hip Hop culture to encourage young people to participate in the democratic process. Through a collaborative leadership network, HHC addresses core issues affecting underserved communities. HHC programs and campaigns support solution-driven community organizing led by today's young leaders.
About People's Climate Music (www.peoplesclimatemusic.com) Climate change is the most significant global issue of our time. The adverse impacts of climate change can be seen in unsafe water supplies, disproportionate pollution in poor communities, and extreme weather like hurricanes, heat waves and drought. It's only going to get worse unless we work together to create a big change. Over the past decade, Hip Hop Caucus has been building support for the climate movement among cultural influencers. People's Climate Music is a large-scale project that is expanding the base and scope of the climate movement, reaching deeper into popular consciousness to drive climate action among diverse constituencies, and inspiring action.
###