ParistoPittsburgh #Think100
Paris to Pittsburgh and also Paris to… Orlando, Miami, Detroit, New Orleans, Virginia Beach, Charlotte, and Boston. This is a story of movement building for climate solutions.
During our break between Seasons 1 and 2 of Hip Hop Caucus' Think 100%: Coolest Show on Climate Change we brought the documentary Paris to Pittsburgh to cities around the country for Earth Month 2019. Hip Hop Caucus' city-based Leadership Committees hosted film screenings throughout April to inspire grassroots action in our communities that are impacted first and worst by the climate crisis. Check out some highlights from some of the screenings and what's next!
Paris to Pittsburgh is a new film from National Geographic, produced by RadicalMedia in partnership with Bloomberg Philanthropies.
The film depicts the devastating impacts of climate change happening to our communities right now, including stronger storms, rising seas, and longer drought and wildfire seasons.
As the stories of impacts unfold, the film shifts towards lighting a path towards a better future by focusing on real solutions that people at the frontlines of the climate crisis are already implementing in their communities and cities.
What does from Paris to Pittsburgh mean? Check out the film's trailer below and on this Think 100% page with the details for the screenings.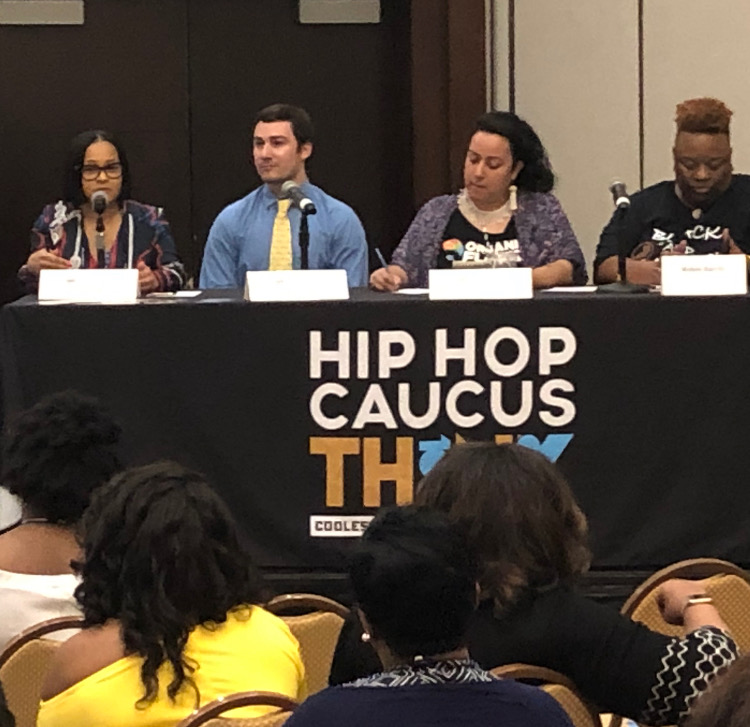 On April 4th, the anniversary of Dr. King's assassination, we screened the film and held a discussion at the National Forum for Black Public Administrators (NFBPA) in Orlando, Florida. In front of a packed audience of African American public administrators from around the country, Hip Hop Caucus Charlotte's Coordinator and NFBPA member, Brandi Williams, hosted a post-film discussion about Orlando's climate solutions efforts with Michelle Suarez, Regional Director of Organize Florida, Robin Harris, a local advocate, and Chris Castro, the Director of Sustainability & Resilience for the City of Orlando, who is featured in the film.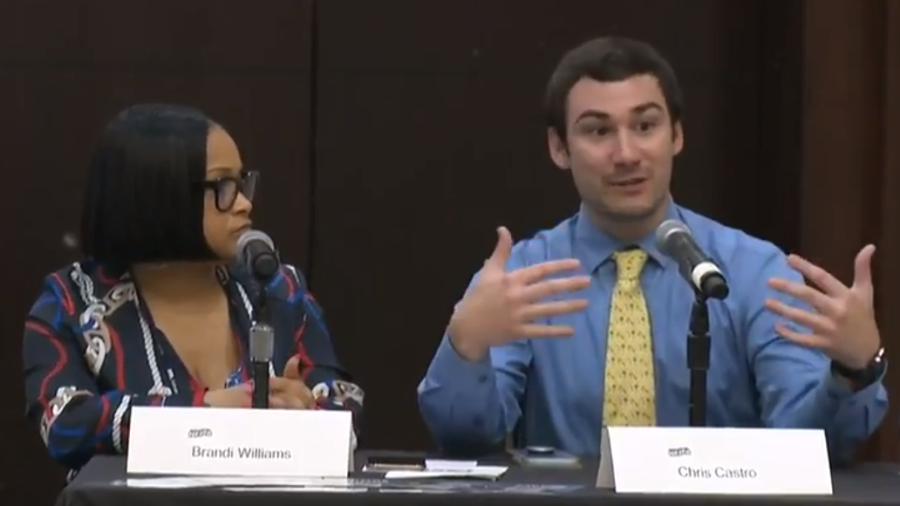 They talked about what steps Orlando is taking to address climate impacts and ensuring the public is at the forefront of policy solutions, including food access and innovative renewable energy deployment, to how grassroots activism is helping drive equitable solutions, including workforce development and connecting environmental health to the broader social justice movement.
The audience of public administrators were energized and excited to take the ideas and information discussed back to the cities and states they represent across the country.
Their dynamic discussion will soon be available as a Think 100%: Coolest Show on Climate Change special podcast episode. Stay tuned!

At each of our screenings the leaders who came together to watch the film talked about what they can do to create more climate solutions in their communities and cities.
Our screening in Miami was for micro-influencers and leaders within the Caribbean American community in South Florida. Completely inspired by the film, they committed to have more conversations with their friends, family, and followers about the climate crisis and solutions.
Asa Sealy, Hip Hop Caucus Miami Coordinator and Founder of Miami Under 40, shared the video above from the influencer screening. Check it out.
Next up in Miami, Think 100%: the Coolest Show on Climate Change will be joining Zero Hour July 12 – 14 for the Youth Climate Summit. Join us!

Ronnie Webb, member of Hip Hop Caucus Washington, D.C. Leadership Committee and President and Founder of The Green Scheme, brought Paris to Pittsburgh to students at Sousa Middle School in Southeast D.C.
As he shares in the video above, for a lot of the students, the film was their first exposure to climate change as a global issue that they have a role in solving. And like young people do, they got it. They are ready to expand the work they have been doing in urban gardening, rain water management, and other local projects to be climate solutions advocates in our nation's capital.

In Detroit, environmental justice activists came together for the screening. Following the film they had a powerful discussion, which, as in the trenches activists, we don't always find the time to come together to do. They discussed big ideas on how to build collective action to address structural barriers that prevent community members from moving towards renewable energy and developing an equitable Water Affordability Plan for Detroit residents.
Their collective agreement coming out of their discussion is to be intentional about supporting one another's work, across their various local organizations which have existing climate justice campaigns. They made a list of each other's support needs for their existing events, put them all on a calendar, and made commitments to attend each.
Piper Carter on our Hip Hop Caucus Detroit Leadership Committee shared her thoughts on the convening in her Instagram post above.

Hip Hop Caucus Virginiahosted a gathering of local influencers, youth leaders, musicians, and young people to watch the film in Virginia Beach, which sits at a nexus of climate and environmental threats.
The young people at the screening who are justice advocates, and were getting introduced to some of the elements of our climate crisis at this event, responded to way Paris to Pittsburgh depicts the solutions and not just the problems.
In the post-film discussion, folks agreed that action on climate change starts with education on the issue. A leader from the local Boys & Girls Club in Virginia Beach was inspired to share the film with his program.
Check out this recap video from "Batman" on our Hip Hop Caucus Virginia Leadership Committee and CEO of Dark Knight Entertainment.

We hope you found some of these highlights from our cities inspiring! We also held screenings in Boston, Charlotte, and New Orleans all in April. Grassroots organizing and powerful films and media strengthen our movements by bringing people together and creating greater space collective action.
If you'd like to bring a screening of Paris to Pittsburgh to your city, to get started, complete the screening request form here. Contact screenings@paristopittsburgh.com for more information and visit the film's website.
What's Next?
We took Think 100%: the Coolest Show on Climate Change on the road for all these screenings during Earth Month, on our break between Seasons 1 and 2 of the show. And now we're almost back! Season 2 of Think 100%: the Coolest Show on Climate Change is coming this July.
But before we come back with Season 2, we're going to release some Special Episodes from being on the road these past months. These specials will include the episode from the Paris to Pittsburgh screening in Orlando, as well as episodes from the National Adaptation Forum's convening in Madison, WI in April, and from Confluence Philanthropy's Annual Conference in Brooklyn, NY in February.
Subscribe to the show from our homepage so you get all these Special Episodes and Season 2 as soon as they are released. Catch up on Season 1 if you haven't yet. And the best ways to stay connected with us is following @Think100Show and @HipHopCaucus on all social media.
Special Thanks
A special thanks to our partners Bloomberg Philanthropies, RadicalMedia, and National Geographic, who produced Paris to Pittsburgh, and made this project possible by sharing it with us to screen in communities across the country.